Woon je in Arnhem? Dan komen wij gerust bij je langs.
Wat is Fysiotherapie aan huis?
Bij fysiotherapie aan huis komen wij bij jou langs. De fysiotherapeut neemt zijn behandelmateriaal mee naar jou thuis. In deze vertrouwde omgeving kun jij veilig je verhaal vertellen en wordt er samen gekeken naar de mogelijkheden om zo optimaal mogelijk te herstellen. 
Wanneer fysiotherapie aan huis?
Fysiotherapie aan huis is voor iedereen die zich daar prettig bij voelt of hier behoefte aan heeft. 
Het kan zijn dat je bijvoorbeeld na een operatie niet de mogelijkheid hebt om naar de praktijk te komen. 
Het kan daarnaast ook zo zijn dat je het prettiger vindt om therapie te krijgen in een vertrouwde omgeving. Fysiotherapie aan huis maak het makkelijker om te oefenen en daarnaast jouw verhaal te kunnen vertellen. Het gevoel van 'langsgaan bij de dokter' wordt weggenomen.
Blijf je liever thuis? Maar ook geen behoefte aan een Therapeut over de vloer? Mischien is online fysiotherapie wat voor jou.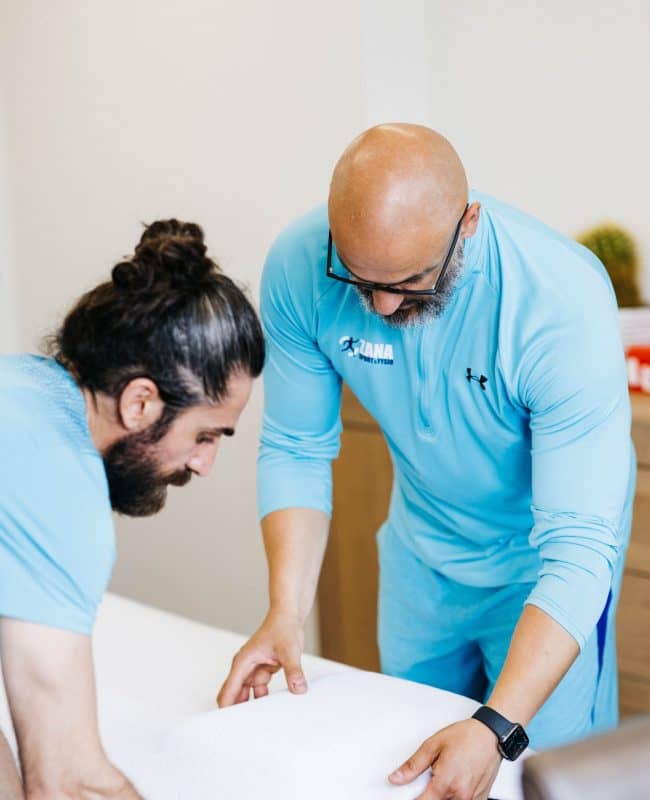 De voordelen van fysiotherapie aan huis
Een therapeut die bij je langs komt kan simpelweg prettig zijn, maar biedt daarnaast ook nog andere voordelen.
Het ontdekken van oorzakelijke factoren. Misschien is je werkplek niet optimaal ingericht, zit je stoel niet fijn, is je houding niet perfect of staan er meubels in de weg die jou situatie belemmeren. Samen creëeren we jouw ideale thuisomgeving. Een omgeving waar jij je nog steeds thuis voelt en tegelijkertijd niks jouw revalidatie in de weg staat.


Praktische oefeningen in jouw thuis situatie. Is het opstaan uit bed een obstakel? Dan kunnen we dit oefenen. Praktisch en in een vertrouwde omgeving. Een deel van jouw fysiotherapie traject is het thuis uitvoeren van oefeningen. Dankzij fysiotherapie aan huis kunnen we gelijk bekijken welke oefeningen mogelijk zijn en welke niet.