Medische personal training
Personal training met een medische blik
Wat is Medische personal training?
Naast personal training bieden wij ook medische personal training aan. Het verschil is dat medische personal trainers gespecialiseerd zijn in het meenemen van een bestaande of oude klacht in de trainingen om sterker, fitter of gezonder te worden. Heb je bijvoorbeeld in het verleden veel last gehad van een enkelblessure? Dan wordt hier in de voor jouw op maat opgestelde trainingen rekening mee gehouden. 
Door een combinatie van fitness en fysiotherapie zorgen wij ervoor dat het gebied van de klacht extra aandacht krijgt of dat dit gebied juist minder belemmerd wordt tijdens het trainen.
Wanneer medische personal training?
Wil jij fitter worden maar ben je net uitbehandeld bij een fysiotherapeut? Of heb je een klacht waar rekening mee gehouden dient te worden tijdens fysieke trainingen? Dan is medisch personal training perfect voor jou.
Je klacht en doelstellingen worden meegenomen in een trainingsplan dat speciaal voor jou wordt opgesteld. Hierbij wordt vanuit een medisch perspectief gekeken naar wat het beste bij je past en op welke manier we jouw doelstellingen samen kunnen realiseren.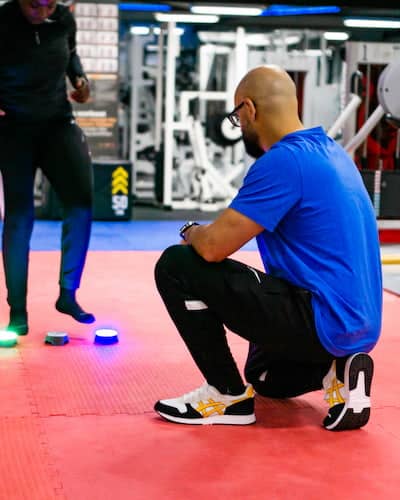 Fysiotherapie die op zoek gaat naar de oorzaak van het probleem en helpt de oorzaak te verhelpen ipv alleen het probleem tijdelijk te verhelpen. Goeie app met duidelijke oefeningen voor thuis.
Positieve ervaringen met deze fysiotherapie praktijk. Er wordt tijd genomen om te kijken naar je klachten. Tevens werken zij toe naar een behandeling die ook de oorzaak bestrijdt en niet enkel de symptomen van de klacht. Enorme aanrader!
Een prettige fysio die goed luistert en je klachten serieus neemt. Ook een goede vent in de omgang, maakt het toch makkelijker om samen te werken!
Heb sporten nooit leuk gevonden maar met juiste begeleiding van Zana is het sporten nu leuk en een nieuwe toevoeging in mijn leven. Ook na mijn Corona periode nu weer volledig aan het opbouwen om weer op conditie te komen. Een echte aanrader voor herstel en één op één begeleiding.