Sportfysiotherapie in Arnhem
Sport fysiotherapie in Arnhem
Fysiotherapie voor sport gerelateerde klachten
Wat is Sportfysiotherapie?
Sportfysiotherapie is fysiotherapie met extra aandacht voor sportgerelateerde klachten. Als sportfysiotherapeut zijn wij gespecialiseerd in het herkennen van klachten en de onderliggende oorzaken, het omgaan met terugslag van sporten en daarnaast het stimuleren van herstel voor een optimaal resultaat. 
Daarnaast wordt er ook aan blessurepreventie gewerkt door bijvoorbeeld een trainingsplan op te stellen waarbij overbelasting wordt voorkomen. Je wilt natuurlijk weer zo snel en verantwoord mogelijk aan de slag en de kans op klachten in de toekomst verminderen.
De sportfysiotherapeut kan je helpen bij zowel acute als langdurige blessures. 
Wanneer Sportfysiotherapie?
Sportfysiotherapie is voor iedereen die door een acute of langdurige blessure niet meer of minder kan sporten. Met een persoonlijk behandelplan zorgen wij er samen voor dat je zo snel mogelijk weer jouw sport kunt uitoefenen. Het behandelplan stellen we in overeenstemming met jou en eventueel je trainer op. Dit zodat je altijd nog kan deelnemen aan je sport, maar met aanpassingen waar nodig.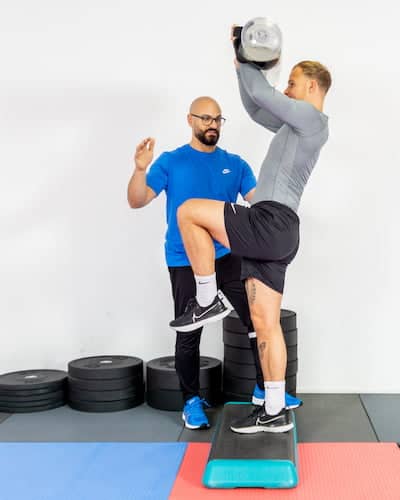 Fysiotherapie die op zoek gaat naar de oorzaak van het probleem en helpt de oorzaak te verhelpen ipv alleen het probleem tijdelijk te verhelpen. Goeie app met duidelijke oefeningen voor thuis.
Positieve ervaringen met deze fysiotherapie praktijk. Er wordt tijd genomen om te kijken naar je klachten. Tevens werken zij toe naar een behandeling die ook de oorzaak bestrijdt en niet enkel de symptomen van de klacht. Enorme aanrader!
Een prettige fysio die goed luistert en je klachten serieus neemt. Ook een goede vent in de omgang, maakt het toch makkelijker om samen te werken!
Heb sporten nooit leuk gevonden maar met juiste begeleiding van Zana is het sporten nu leuk en een nieuwe toevoeging in mijn leven. Ook na mijn Corona periode nu weer volledig aan het opbouwen om weer op conditie te komen. Een echte aanrader voor herstel en één op één begeleiding.